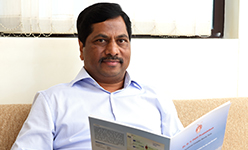 Hon. Dr. Sanjay D. Patil
President
Dr. Sanjay D. Patil is an educationist, agriculturist and a Civil Engineer. He is the architect of  Dr. D. Y. Patil Educational Institutions of Kolhapur academic complex. He holds positions of Chancellor of  Dr. D. Y. Patil University and Chairman of Kasaba Bavada Shikshan Mandal, Kolhapur.
He has to his credit various awards. The Government of Maharashtra has awarded him with "Vanashree Puraskar" in 1991. He is recipient of "Indira Priyadarshini Vrukshamitra" award in 1993. He has been also awarded by "Kolhapur Bhushan" in 2001 for his achievement in educational field, Rashtriya Shikshan Sanman Puraskar", "Krishinishtha Puraskar" awarded by Government of Maharahshtra in 2004 and he has won first prize in "All India Mango Show " held at Banglore in 1996.
Dr. Sanjay D. Patil believes in nurturing the potential of the student, giving them exposure to the latest developments and enabling them to become competent and quality conscious engineers, the world class infrastructure and environment in the institutes reflects the meticulous care taken in maintaining high academicians and most ultra modern laboratories. His humane and calm approach towards addressing of problems and his quick decision making ability is responsible for the rapid progress and growth of the educational institutes.